Art from the Ocean
Welcome to my art page.  Here you will find majestic views above and below the surface. Exciting creatures both naughty and nice yet all with an intrinsic beauty.
I am a scientist, marinebiologist and professional diver since 30 years back. I worked worldwide but mostly in Sweden and the Baltic Sea. Now i transfer the pictures in my head onto canvas and i hope you would like to come along and enjoy my art.

My artistry is about real and imaginary creatures and people in the marine environment.
Oh Coral (i am but a fool)
Acrylic on variegated strokemetal, for sale
A spontaneous painting where i let the colour run to create the coral. Then i went to work with the little blue fishes, dont miss the stray one! 
It is well known that fish hide in coral to get away from predators. But did you know that small colourful  fish even can hide by smelling like coral. The phenomenon is known as chemical camouflage and has been discovered in the filefish (not the fish in the painting though). Little is known in this research field and it might be more widespread than we thing. It could be happening right under our noses.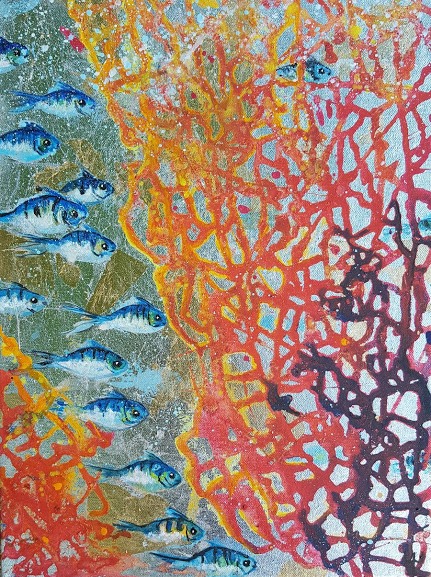 Exhibitions
Upcoming and recent exhibitions. I hope to see you there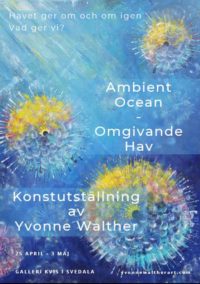 Ambient Ocean -Omgivande Hav
The ocean gives over and over again, but have we overgiven the ocean? An exhibition that bridges science and art to mediate ocean literacy. 

The Arts Dot
International Art exhibition in Karlskrona, Sweden
Work in progress for 2020
Registration is open