Art from the Ocean
Welcome to my art page.  Here you will find majestic views above and below the surface. Exciting creatures both naughty and nice yet all with an intrinsic beauty.
I am a scientist, marinebiologist and professional diver since 30 years back. I worked worldwide but mostly in Sweden and the Baltic Sea. Now i transfer the pictures in my head onto canvas and i hope you would like to come along and enjoy my art.

My artistry is about real and imaginary creatures and people in the marine environment.
Floating in light 
Acrylic on canvas
A swarm or bloom of jellyfish, floating calmly in rays of light. The species is Moon Jellyfish "Aurelia aurita". 
In general, jellyfish have existed for over 650 million years yet they have no brains and can hardly swim. But they are super adaptable and inhabite most part of the world ocean and tolerate both warm and cold water. The population is rising due to overfishing of natural enemies and the capacity to withstand climate change. Many scientists are convinced that jellyfish blooms are on the rise. 
However the viewpoint of jellyfish as pest and plague is turning and recent research has indicated that jellyfish play a much more important role in the ecosystem than previously understood. A whole lot of animals that feed on jellyfish and they are also shelter for smaller fish.
The winners of the 2008 Nobel Prize in Chemistry owe their success to the crystal jellyfish, "Aequorea Victoria" by extracting and using green fluorescent protein (gfp) to track the development of human diseases such as cancer, HIV and alzheimer.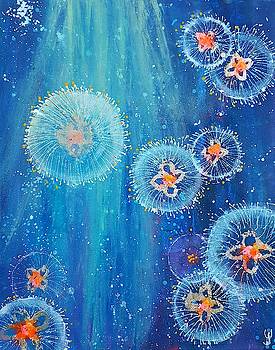 Exhibitions
Upcoming and recent exhibitions. I hope to see you there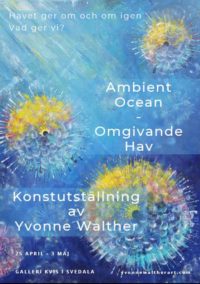 Ambient Ocean -Omgivande Hav
The ocean gives over and over again, but have we overgiven the ocean? An exhibition that bridges science and art to mediate ocean literacy.  Galleri KVIS, Svedala 25-26 april and 1-3 may

The Arts Dot
International Art exhibition in Karlskrona, Sweden
28-30 May, Vattenborgen, Karlskrona
Registration still possible for digital contributions.
www.theartsdot.se